At it's heart the art of cartography is thousands of small decisions- about where to place labels, which features to label, which font and what size to use, or how to symbolize different types of geographic and cultural features. There are standards of course but there is so much room for expression within the standard.
When you make several of the same type of map the number of those decisions is drastically reduced and the process becomes less artistic and more formulaic. I still love the challenge of fitting all the information in the given space in the best way possible, but after a few years of doing that we were itching to get back to the creative side of cartography.
We have talked about (and received requests for) a map with the whole Bob Marshall Wilderness Complex since 2011 when we printed our first map. This spring the concept for that map finally started to take shape. We knew we wanted it to be totally functional so you could use it to daydream about new trips or reminisce about trips passed. We also wanted it to be an art piece- something that would look good in a frame on someone's wall.
On the map you will find all the trails, cabins, trailheads, and ranger stations plus all the peaks, streams, rivers and geographic features that are on our other maps all overlaid on an updated terrain shading.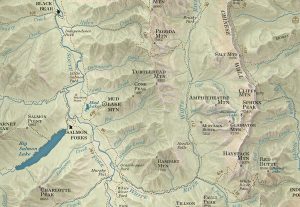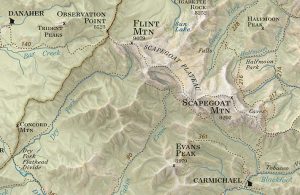 It also turns out when you put the entire Bob Marshall on one rectangular sheet of paper you end up with the entire Mission Range and Rattlesnake Wilderness on the page as well!